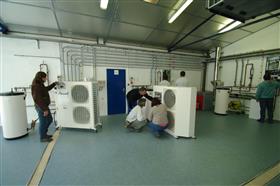 The training service Wesper offers a large range of training sessions

These are designed to allow you to install, maintain and troubleshoot our products
Technical training is available for all heat pumps in our catalog.

You want to discover and enhance your knowledge about our latest  VRF. We have the answers you need.
 
Our new and extensive range of chillers air-cooled and water also has its training modules.

Discover and enjoy the qualities of our Air handling unit Premiair double deck, with its innovative and perfectly adapted regulation through our training sessions.

Coming also in 2014, a module Heat Pumps, specifically for new installers of heat pumps still needing to discover aspects of this promising field.

So very soon, in our training rooms, in our sites of Pons in Charente Maritime and Tillieres Sur Avre Eure.

During these days, you can discover and handle our products on benches or on actual installations.